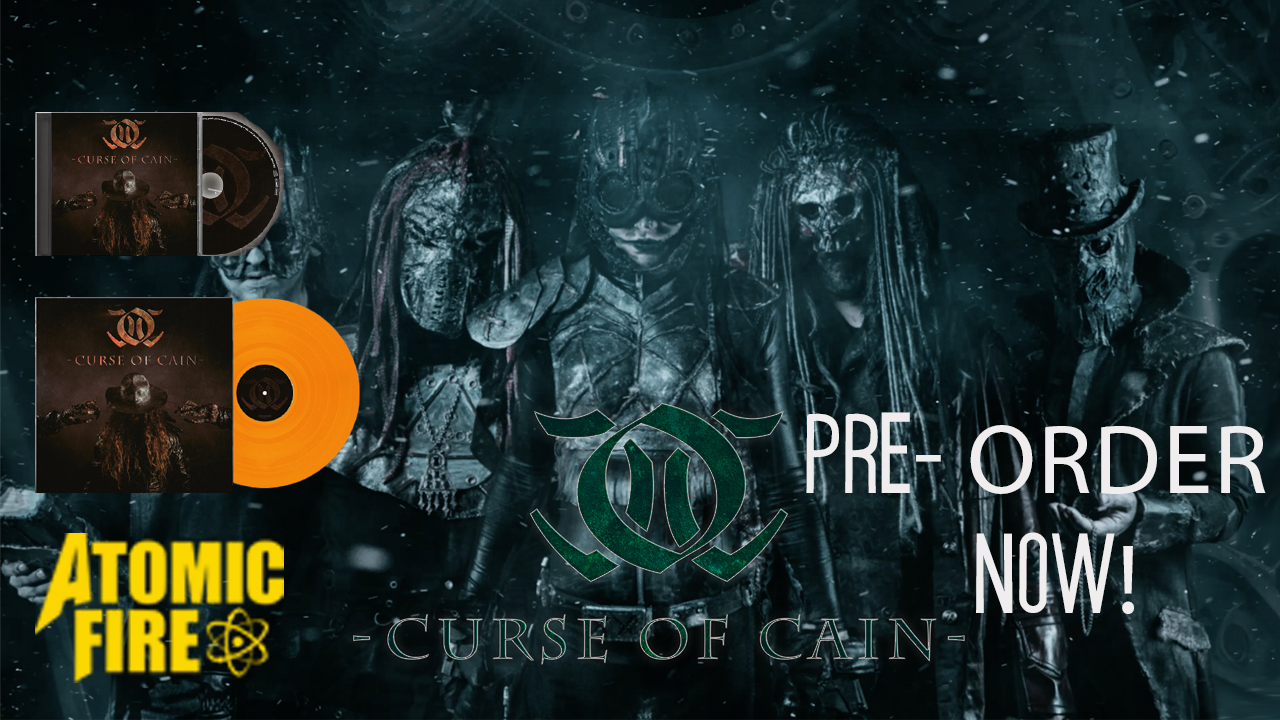 Pre-oder album here: https://curseofcain.afr.link/curseofcainWE
Great news today. Single out for Embrace your Darkness + pre-sale on or album.
Atomic Fire writes: 
On the heels of their recently announced self-titled debut album, Swedish modern sci-fi metal visionaries CURSE OF CAIN unveil the new single '𝗘𝗺𝗯𝗿𝗮𝗰𝗲 𝗬𝗼𝘂𝗿 𝗗𝗮𝗿𝗸𝗻𝗲𝘀𝘀'. The theatrical and dramatic song serves as manifesto of »𝗖𝘂𝗿𝘀𝗲 𝗢𝗳 𝗖𝗮𝗶𝗻« which will be released on May 12th 2023 via Atomic Fire Records.
Watch the video for '𝗘𝗺𝗯𝗿𝗮𝗰𝗲 𝗬𝗼𝘂𝗿 𝗗𝗮𝗿𝗸𝗻𝗲𝘀𝘀': 
"𝘛𝘩𝘪𝘴 𝘪𝘴 𝘵𝘩𝘦 𝘴𝘰𝘯𝘨 𝘵𝘩𝘢𝘵 𝘴𝘦𝘵 𝘵𝘩𝘦 𝘧𝘰𝘶𝘯𝘥𝘢𝘵𝘪𝘰𝘯 𝘧𝘰𝘳 𝘰𝘶𝘳 𝘴𝘰𝘶𝘯𝘥 𝘢𝘯𝘥 𝘸𝘢𝘴 𝘢𝘭𝘴𝘰 𝘵𝘩𝘦 𝘧𝘪𝘳𝘴𝘵 𝘴𝘰𝘯𝘨 𝘸𝘦 𝘮𝘪𝘹𝘦𝘥 𝘧𝘰𝘳 𝘵𝘩𝘦 𝘢𝘭𝘣𝘶𝘮! 𝘐𝘵 𝘩𝘢𝘴 𝘵𝘩𝘢𝘵 𝘮𝘰𝘷𝘪𝘦 𝘮𝘦𝘵𝘢𝘭 𝘧𝘦𝘦𝘭𝘪𝘯𝘨 𝘸𝘦 𝘢𝘳𝘦 𝘢𝘧𝘵𝘦𝘳. 𝘏𝘦𝘢𝘷𝘺, 𝘥𝘢𝘳𝘬 𝘢𝘯𝘥 𝘮𝘦𝘭𝘰𝘥𝘪𝘤," states the enigmatically veiled collective 𝗖𝗨𝗥𝗦𝗘 𝗢𝗙 𝗖𝗔𝗜𝗡.
The album will be available in the following formats:
- CD
- Limited edition LP in sleeve (orange)
- Digital